If you think drumming progression begins and ends with players like John Bonham and Buddy Rich, you perhaps haven't been paying close enough attention to the exciting evolution taking place in the drum world today. Everywhere we look, boundaries are being broken and innovative new styles and set-ups are taking drums and percussion to new heights. Not convinced? Take a look at our pick of the new breed of drum heroes and get a glimpse into the future.
SIGN UP TO OUR DRUM NEWSLETTER
Get the latest drumming news from Roland right in your inbox.


#1 Kaz Rodriguez

London-based sticksman Kaz has been making huge waves in the drum world since his self-penned shed tracks landed in the hands of drumming superstars including Aaron Spears, Tony Royster Jr and Chris Coleman. But Kaz's talents don't stop at songwriting. He's a monster behind the kit, too, and his considerable chops have taken him everywhere from tours with Cirque De Soleil and Jesse Ware, to performing global clinics and drum festivals with Roland, and starring on international drum magazine covers. Kaz is a fearless innovator when it comes to sound, whether experimenting with kit configurations and cymbal stacks or exploring the full potential of hybrid drumming. A true modern drumming icon.




#2 Nate Smith

His may not be a new name – since the late '90s this American drummer has worked with jazz luminaries such as John Pattituci and Ravi Coltrane, as well as Is She Really Going Out With Him? star Joe Jackson – but, until now, his talents have remained under the radar. That's all set to change thanks to a recent series of astonishing videos that formally introduced Nate to the drumming world, showcasing his exceptional control, feel and groove. But Nate is no one-hit wonder, and his 2017 solo album, Kinfolk: Postcards From Everywhere, represents the drummer in his element, particularly on tracks like the bouncing Skip Step and the soothing Spiracles.




#3 Liam Kearley, Black Peaks

In 2016 the UK rock scene received a much-needed shot in the arm thanks to dazzling Brighton prog rock quartet Black Peaks and their debut album Statues. Powering the band with his assured, progressive beats is drummer Liam Kearley, who started his drumming journey on a humble Roland TD-3. He's come a long way since; check out Set In Stone or the frenetic Saviors to taste the full flavour of Liam's innovative style. But it's on stage where the band really shines, and support slots with their heroes Deftones and Mastodon suggest they should get used to playing larger venues. Catch them while you can still get your hands on tickets.




#4 Josh Dion, paris_monster

It's one thing to be a phenomenal drummer, but it's quite another to excel at singing, or to master keys too. Amazingly, Josh Dion commands all three disciplines at the helm of his hypnotic electronic outfit paris_monster – over 670K views of the live clip of the track A Vision Complete suggest this musical Godzilla is about to take over. But this list is about drummers, right? Despite splitting his hands between drums and synth, Josh plays with bags of feel and possesses a hefty backbeat that would put most two-handed drummers to shame.




#5 Aric Improta, Night Verses

He shines behind the kit with progressive metallers Night Verses, but away from the band is where Aric Improta is able to fully express his creative approach to both playing and showmanship. Whether demonstrating his insane double bass drum chops and frantic improvisations, experimenting with Roland electronics and manipulating sound, or backflipping between two drum kits, it's obvious Improta has a zero boundaries approach to drumming (and possibly a screw loose). Aric's YouTube channel is an endless source of inspiration and bewilderment, and we think he's only just beginning to scratch the surface of his potential.




#6 Luke Holland, solo drummer/YouTube star

When your drumming has enticed 365K subscribers and over 60million views to your YouTube channel, you know you must being doing something right behind the kit. That's exactly the position self-taught drummer Luke Holland found himself in after building an impressive playlist of covers, remixes and solo music. The secret? As well as proving his skills across a spectrum of styles, from progressive metal and hip-hop to pop and dubstep, his videos feature stylish visuals and pro sound, eclipsing 99 percent of the drum videos online. Luke first came to prominence in American metalcore band The Word Alive, but has since gone solo to focus on other projects and to take his YouTube stardom to new heights.




#7 Devon Taylor, Justin Bieber

You don't land a gig with a popstar of Justin Bieber's level without the professionalism and confidence to handle huge gigs, or the chops to perform side-by-side with the world's best session musicians. Young drum prodigy Devon Taylor grew up in Georgia, playing in church and shedding to YouTube videos. Devon's phone started ringing after he reached the finals of the Guitar Center Drum Off competition in 2012 and 2013. In just a few short years he's worked with R&B singer Chrisette Michele, Musiq Soulchild and Rita Ora. Most recently he's been laying down rhythmic fire behind his Pearl/Roland hybrid rig and working Beliebers into a frenzy around the world.




#8 Oli Wiseman, Anne Marie/Wilkinson

Despite not getting his first kit until 14, it didn't take long for Brit drummer Oli Wiseman to get up to speed behind the drums. Originally a rock music fan, it was when he discovered electronic crossover acts like Pendulum and The Prodigy that his interest in fusing acoustic and electronic drums took flight. Oli's first break came via hip-hop/rock act Inner City Dwellers, before a meeting with hybrid guru Andy Gangadeen led to juggling headline tours with electronic artists Wilkinson and Anne Marie. Oli has a deep understanding of his employer's needs and has developed his live setup to enable him to play programmed electronic hi-hat patterns live and bring a new dimension and feel to every show. Expect to see a lot more of this hybrid whizz-kid in the future.




#9 Mario Duplantier, Gojira

Mario was crowned metal drummer of 2016 by the readers of MusicRadar on the strength of his band Gorjira's almighty sixth album, Magma. The album showcases Mario's most well-rounded playing yet, fusing the death metal intensity of early Gojira albums with a consideration and musicality rarely displayed in heavy music. Mario takes his passion and precision to the stage, too, and is one of the most consistent and powerful live metal drummers you'd ever hope to witness. If anyone can be trusted to take metal drumming forward it's Mario Duplantier.




#10 Dan Mayo, Tatran

You'd be forgiven for not knowing Dan Mayo's name, but in his home country of Israel this multi-instrumentalist is known as the engine driving jazz power trio Tatran. Mayo's avant-garde style fuses everything from funk and rock to punk and jazz, channeling classic influences like Tony Williams, whilst biting at the heals of progressive players such as Jojo Mayer and Mark Guiliana. Mayo is a risk taker who thrives on experimentation with styles and time signatures, and lives almost permanently outside of most drummer's comfort zones. If you've been craving a player with a fresh take on the instrument, Dan is the one to watch.


Related Articles
THE DRUMMER'S GUIDE TO THE TD-50 – BEEF UP YOUR KICK
ELECTRONIC DRUMS – FREQUENTLY ASKED QUESTIONS
V-DRUMS MASTERCLASS: RECORDING YOUR TD-50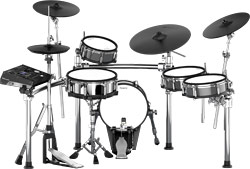 Go and Try It Yourself
If you enjoyed this article and want to learn more, find out where you can go and check out a TD-50KV kit for yourself.