You have just finished recording a new song with a great multi-synth backing track that you'd really love to perform live. Sure you could hire an army of synth players every time you're booked but that'd get very expensive very quickly. Your best bet is to get your recording engineer to give you a copy of the backing track and load it into your loop station.
Loading a backing track into your BOSS RC Loop Station is simple; all you need are three things:

BOSS Tone Studio for RC is a piece of software for Mac or PC that allows the import and export of audio files to and from your BOSS Loop Station. If you don't already have it, check out our article on how to get free patches and loops at BOSS TONE CENTRAL.


NAVIGATING BOSS TONE STUDIO FOR RC
Once you open BOSS Tone Studio for RC, a greeting appears with a simple screen with four buttons at the top:
Disconnect – This button cuts the connection between your computer and the Loop Station.
Import – Allows you to add audio files to your Loop Station
Export – Allows you to take audio files saved to your Loop Station's memory and load them on to your computer
About – provides you with support information about your system.

To Import files from your computer to your Loop Station there are four easy steps.
Click the Import button at the top of BOSS Tone Studio for RC

Find the file you want to import on your computer





Choose the memory location and track that you want to import the file to.

Click the blue Import button on the import dialog box.

It's easy as that! Remember that even the smallest of the USB capable BOSS Loop Stations have about 3 hours of recording time so there's no reason you can't save entire set lists to your looper.
While you're in the BOSS Tone Studio for RC software, why not have a look at the track sets provided. There is a huge range of genres to choose from and downloading the backings in to your Loop Station is just as easy as the import process.


TECHY BIT: CONVERTING A WAV FILE
Keep in mind, the line of BOSS RC Loop Stations can only import 44.1 kHz 16-bit WAV files. Don't despair if you only have an mp3 file though. Here's how to convert your files using the freely available iTunes software:
Open iTunes and go to Edit>Preferences (PC) or iTunes>Preferences (Mac)

In the General Preferences tab click the "Import Settings" button

Under Import settings click Import using WAV Encoder and choose a Custom setting.

Under WAV Encoder settings choose a Sample Rate of 44.100 kHz, a sample size of 16-bit and Stereo Channels.

Import the track you want to convert into iTunes, then right click the track and select "Create WAV Version"

Find the WAV version of the track in your iTunes library and import it into your Loop Station using BOSS Tone Studio for RC
RELATED PRODUCTS
THE DEFINITIVE BEGINNER'S GUIDE TO LOOPING
WHY SHOULD I BUY A SWITCHING SYSTEM?
GETTING BIG GUITAR SOUNDS AT SMALL GIGS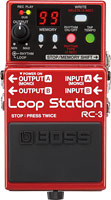 RC-3 Loop Station
Compact and powerful looper with USB capability, massive internal memory, and rhythm guide.