Are you looking to grow your evolving electro-acoustic drum setup, or do you need a simple solution to begin incorporating electronic sounds into your music? Roland's SPD::ONE pads empower musicians of all levels to enhance their sound palette and performances.

The SPD::ONE range comprises four individual, palm-sized digital percussion pads: Electro, Kick, Percussion, and WAV PAD. Each pad gives live and studio musicians instant access to electronic sounds, one-shots, samples and more. Pads have their own distinct personality and are playable with sticks, hands or feet.
The Percussion, Electro and Kick pads come loaded with bespoke collections of 22 sounds, from classic TR-808 and hand claps on the Electro pad, to shakers, tambourines and beyond on the Percussion model. There's also one empty bank per pad that you can load with your own WAV files (up to five seconds long) via USB. The SPD::ONE WAV PAD, in contrast, is a blank canvas featuring a spacious 4GB memory to accommodate longer stereo samples, backing tracks and clicks.
The SPD::ONE range isn't just for drummers, either. These versatile pads enable percussionists, guitarists, singers, keyboardists, DJs and the like to enrich their music creation and performance. USB-MIDI functionality means the various SPD::ONE models can be used as pad controllers for music software – ideal for producers.
Whichever flavour of SPD::ONE you choose, the pads share some key features: each model includes four control knobs for sound selection, tuning, editing and other functions, making light work of on-the-fly tweaks, while pad sensitivity and trigger threshold can be adjusted using two side controls. You'll also find a main output (mono) and headphones output (stereo) for monitoring. Power comes via an AC adaptor or 4x AA batteries.
SPD::ONEs are a breeze to set up, too. For the simplest approach, place them directly on a tabletop and play with hands or sticks, or position them on the floor and play with your feet. Alternatively, use the included drum-hardware- and-mic-stand-friendly mounting adaptor to incorporate them into your setup.
The SPD::ONEs are fast becoming the go-to choice for professional drummers. Don't take our word for it, here's International Roland Artist Kaz Rodriguez: "The SPD::ONE series is an extremely useful tool for expanding my hybrid drumming. Not only are the pads discrete and aesthetically very pleasing, but they're incredibly versatile too.
My two favourite pads are the WAV and Electro. I can use the WAV PAD as a great playback system and I love that control of the master and click level is in your hands; this cuts out many problems I've experienced with modern playback systems.
The SPD::ONE Electro enables me to play so many great on-board sounds with the option to change pitch and add delay. To me, the SPD::ONE series is an essential tool for drummers who wish to innovate with their hybrid setup."
So, that's the SPD::ONE range in a nutshell. Now, let's take a closer look at what's on offer from each pad…


SPD::ONE Electro
If you're looking to invigorate your performances with some electronic magic, look no further than the SPD::ONE Electro. Among the 22 classic on-board sounds are electronic cowbells, crisp hand claps, monster snares and cracking rim shots. It's possible to personalise your sonic palette further by adding one of your own sounds/samples, up to five seconds long, via USB. When you're ready for action, mount the pad off your drum hardware or a mic stand, or position it next to your decks in the DJ booth. Select and tune your sound via the four control knobs, before adding reverb or delay.




SPD::ONE Percussion
Imagine being able to enhance your acoustic drum set-up with great percussion sounds, but without the need for loads of extra gear or microphones? Or how about adding an electronic spin to your percussion rig? That dream becomes reality with the SPD::ONE Percussion pad. The huge spectrum of on-board sounds includes tambourine, shaker, timpani, gong, cross stick and various effects cymbals. On top of this aural feast is the functionality to add one of your own sounds/samples, plus you can tweak tuning and add reverb or delay in real-time.




SPD::ONE Kick
The SPD::ONE Kick, designed to be played by foot, is the ultimate addition to your bass drum arsenal. Whether you're a busker tapping out four-to-the-floor grooves beneath your acoustic tunes, a drummer adding some electronic stomp to acoustic beats, or a cajon player layering extra low-end on your flamenco rhythms, the SPD::ONE Kick is one versatile pad. You'll find stomp boxes, cowbells and shakers among the 22 on-board kick and percussion sounds. Again, it's easy to add one of your own sounds/samples. Once you've made your selection, tune your sound to the desired pitch and dial in extra reverb or distortion using on-board controls.




SPD::ONE WAV PAD
Whereas the Electro, Kick and Percussion pads come fully loaded with carefully curated sounds along with the ability to edit them on the fly, the WAV PAD is a blank canvas for you to create with. Plus, there's some extra smarts lurking under the hood…
At its core is a 4GB memory to accommodate everything from full-length backing and click tracks, to one-shot samples – we're talking drum sounds, vocal lines, bass loops and more – arming you with up to 360 minutes of stereo audio for live sets, spread across 12 banks. If you want to enhance your sound and bring studio-level production to your live gigs, this is the SPD::ONE for you.
Importing files is as simple as connecting the pad to your Mac or PC – the SPD-1W appears as a drive and you can simply drag your audio files into any of the 12 folders. Within each folder awaits separate folders for the 'master' audio (the sound you want your audience to hear) and 'click' audio (your own audio click track).
Click tracks are a vital element in nailing your live performance and the SPD::ONE WAV PAD has your back here, too. Imported audio click tracks (created in your DAW to accompany your backing track) will play simultaneously. While the backing track can be heard via the main and headphone outputs, the click is automatically routed to just the headphones for stage monitoring. The SPD::ONE WAV PAD also gives you complete control over the volume balance between your backing and click tracks.
Once you've selected a sound from any of the 12 banks, the main control knobs can be used to adjust master volume, phones volume, and your personal monitor mix, as mentioned. Furthermore, you can control how the master audio plays, between polyphonic, monophonic or alternate playback modes simply by adding a suffix to the file name of your .wav audio before it's imported.
Finally, with the SPD::ONE WAV PAD you can take your creativity and sound to new levels by layering up to three audio files together. Want a fat snare layered with a tambourine and a cool vocal phrase? No problem! The pad can also be set up to play different sounds when you strike at different velocities, such as triggering a closed hi-hat when the pad is played gently, or an open hi-hat with a harder strike. With kit this innovative, the only real question is how much time do you have to explore all the possibilities?


RELATED ARTICLES
THE NEXT GENERATION OF DRUMMERS
HOW CAN I PLAY DRUMS WITHOUT ANNOYING MY NEIGHBOURS?
PERFORMING LIVE WITH V-DRUMS AND ELECTRONIC PERCUSSION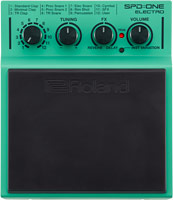 SPD::ONE ELECTRO
The Simplest Way to Add Electronic Drum Sounds to Your Performances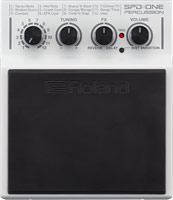 SPD::ONE PERCUSSION
The Simplest Way to Add Authentic Percussion Sounds to Your Performances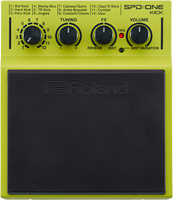 SPD::ONE KICK
The Simplest Way to Add Four-on-the-Floor Beats and Kick Drums to Your Performances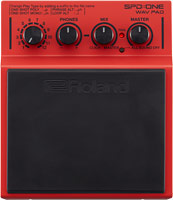 SPD::ONE WAV PAD
Your Own Samples, Backing Tracks, and Click Tracks—In the Palm of Your Hand