The age of digital sheet music has arrived! Now, pianists and other musicians can take advantage of all the benefits from virtually any computer or mobile device. Whether you're a teacher giving private lessons, a gigging musician, or a student just starting out, there's much to gain from the scores of scores available with a simple touch, click, or tap.
Sheet Music Direct and other leading vendors offer a huge selection of music, from current hits and popular classics to show tunes, classical pieces, and more. Read on as we explore the top five benefits of this useful modern technology.

1. Portability
Digital sheet music makes it easy to take your music with you wherever you go. Instead of lugging around heavy music books and folders of loose scores, you can now carry everything you need for gigs, lessons, and practice on a laptop or tablet. Plus, you can keep those rare charts safe at home, so you'll never risk losing or damaging them again.
2. Convenience
When using a computer or tablet with an Internet connection, you have instant access to nearly any music you want to play. If you're playing a gig and get a request you don't have music for, just log on to a site like Sheet Music Direct to find the song. How about that holiday gathering where everyone wants to sing along with a favorite tune? Just hop on the web to keep the party rolling.

Roland pianos and digital sheet music use modern technology to enhance your learning and enjoyment.

3. Connectivity
Digital sheet music is even more powerful when paired with the advanced tech in the latest digital pianos from Roland. Most models let you easily connect your tablet or smartphone via Bluetooth. Using the free Roland Piano Partner 2 app, you can view notation for the piano's built-in song collection. The piano can play the songs first, so you can hear how they sound. Then, you can read the notation and play on your own, or practice just the right- or left-hand part while the piano plays the other.
4. Interactivity
Using digital sheet music offers powerful interaction that's simply impossible with standard printed notation. You can change the key, expand the note size so it's easier to see, adjust the play-along tempo, and more. With apps like Piano Partner 2 or piaScore, you can even use the pedals on certain Roland piano models to turn pages, so you never need to lift your hands off the keys. And when using an education app like Faber's Piano Adventures Player, the page turning automatically follows your playing, making it simple to learn at your own pace.




5. Unlimited Access
Sheet Music Direct offers a subscription service called Sheet Music Direct PASS. This gives you unlimited online access to their entire music library, which currently has over 50,000 titles. If you've been interested in a Roland piano, now's the time to take advantage of a great offer. From now through July 31, 2017, the purchase of a qualifying Roland HP, GP, or LX piano gives you a complementary three-month subscription to Sheet Music Direct PASS and 50 percent off downloads and printable sheet music.
Visit the Roland Sheet Music Direct PASS page for all the details.

ACTIVATE YOUR FREE SUBSCRIPTION
Related Articles
GET THREE MONTHS' FREE ACCESS TO SHEET MUSIC DIRECT
STARTING TO PLAY THE PIANO AGAIN
HOW CAN I HELP MY CHILD LEARN THE PIANO?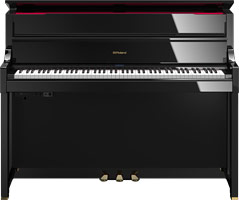 Go and Try It Yourself
If you enjoyed this article and want to learn more, find out where you can go and check this product out for yourself.